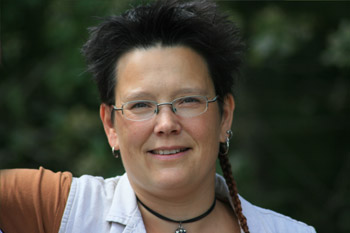 LinkedInChristy Duijvelaar (Dutch) has over 18 years of working experience across Central and Eastern Europe, the Caucasus and Central Asia. She holds a MSc. degree in Environmental Sciences from the University of Wageningen, the Netherlands. Christy's deepest interest concerns the process of realizing true sustainable development, be it for individuals, organisations or societies.
Christy has a strong track record in designing, implementing and evaluating granting schemes for the civil society, local authorities and the private sector. Her approach to project design, team-building, individual coaching and leadership training is all building upon and inspired by years of international project experience, Spiral Dynamics Integral, anthroposophy and her knowledge of environmental management. Her strong commitment and practical skills in project design and proposal writing are highly appreciated by a variety of clients, including NGOs, authorities and several consultancy companies. In The Netherlands Christy is one of the driving persons behind 'The Green Giraffe' an annual price for the most sustainable childcare centre in the country. Christy speaks English, Dutch and German and she manages quite well in Albanian and Hungarian.
Since 2005, when Christy founded TreeVelop Projects & Processes with her partner Giel Verbeeck, she has developed and implemented projects for a broad variety of donors and clients, including the European Commission, USAID, several Dutch and Swedish Ministry of Foreign Affairs programs, the European Agency for Reconstruction, the British Office, United Nations Development Program, Wageningen University and Research Centre and a variety of international consultancy companies.
Christy is an expert on (environmental) civil society development. She gets the stakeholders together around a certain topic, facilitating problem analysis and jointly developing and implementing solutions. Her key skills include:
Design and implementation of capacity building and awareness raising programmes in a variety of fields for broad groups of stakeholders. She provided workshops, lectures and short courses on the aspects of sustainable development on several occasions in different countries and for a wide variety of audiences.
Fundraising, proposal writing, drafting of ToRs and international tender development.
During 1995-1999 Christy lived in Hungary, working at the Regional Environmental Centre for Central and Eastern Europe (REC). After a year at Royal Haskoning in the Netherlands, Christy moved to Kosovo. Between 2000 and 2002 she established the REC's country office in Prishtina. In 2003 and 2004 she lived in Budapest, managing the network of 16 country offices at the RECs Headoffice. Over the last eight years Christy has worked and travelled extensively across the Balkans and Belarus for TreeVelop Projects & Processes. In 2009 Christy initiated TreeVelop People & Planet, a not-for-profit bringing together all not-for-profit projects, actions and an network of associates – all working for the practical implementation of sustainable lifestyles. TreeVelop People & Planet actively promotes sustainable development in the Dutch childcare system through its participation in 'The Green Giraffe'.
Christy has never stopped learning after concluding her studies cum laude at Wageningen University:
In 2002 she followed a 3-month post-graduate course at the VU University in Amsterdam on International Sustainable Development for a Safe World;
Christy has successfully concluded all relevant certified courses for Spiral Dynamics Integral (level I, II and IIII). She is fully certified for individual and organisational assessments and coaching based on Spiral Dynamics Integral;
She is a certified Lightworker, Reader, Leader and Healer – who finalised the four-year professional programme for energy work in November 2009;
In 2013 Christy finalises the second year of the ECOtherapy vocational training, learning to energetically balance eco-systems, organisations, companies, nature reserves and any system alike.
Christy and Giel are not only partners within TreeVelop, but also parents of 4 daughters.